Overview snapshot of n-connex product goes in here.
Overview snapshot of n-connex product goes in here.
Overview snapshot of n-connex product goes in here.
The distribution module is the core N-Connex component that delivers high reliability, gigabit ethernet network.
The module includes eight (8) managed PoE ports, two (2) Non-PoE Ports and four (4) Single Mode Fibre Ports to enable a range of solutions and network topologies.
The Distribution module can enable a large range of high power consuming PoE devices to be simultaneously connected due to the ability to actively manage 200W of total Power. The Distribution module is commonly connected to the Power and Battery modules. When combined with the N-Connex Bolt Access Points we can achieve strong and reliable WiFi coverage in underground mines, tunnels and heavy industrial facilities.
The Distribution Module supports many advanced network standards including Layer 2+ features to optimise network performance, ease maintenance issues and secure network safety.
The power module provides power to the distribution module of the N-Connex system.
The Power module connects to a single phase 110-240 VAC source and supplies an output load of 48 VDC at approximately 5 Amps.
Adding the optional (recommended) Battery module will provide the Power module with an Uninterruptable Power Supply (UPS) function. The Power module will also provide a dedicated connection for the Battery module.
Interconnections are made with pre-configured, keyed cables to ensure connections are quick and correct.
The battery module is designed specifically to provide backup power when the main 120/240 vac power source is shut down.
The Battery module connects to either the Power module or to the Edge module, to provide this backup functionality.
The Battery module is charged by either the Power or Edge modules, depending on the deployed N-Connex configuration. The Battery module will provide 48VDC and will typically last for 8 hours or more. The actual time is dependent on the overall load, which is determined by the number and type of Power over Ethernet (PoE) devices connected to the module.
The weatherproof IP67 rated enclosure is vented to prevent residual build-up of any hydrogen gas.
The alarm module provides an emergency warning solution for the N-Connex network.
The alarm module includes a high intensity flashing strobe light (various colours available), a 110dB Siren and an emergency trigger or call point.
The Alarm module is fully PoE powered and is designed to be connected to the Distribution or Edge modules via the IP67 CAT6 cables. The module can be installed in a standalone configuration or mounted on to the N-Connex frame.
Through our proprietary software, the Alarm module(s) can be fully managed and controlled to respond suitably in an emergency situation. For example, whole sites or smaller configurable zones can be established and managed.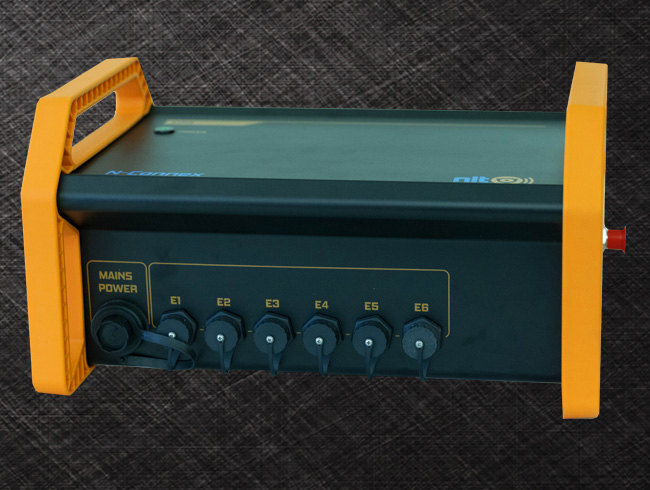 N-connex edge module provides connectivity to a gig backbone.
The Edge provides local networking access and can provide peripherals with power via Power-over-Ethernet and Cat6 cables.
The module comes with 6 managed PoE ports to enable a range of solutions. Optionally, the Edge can include two (2) Single-Mode or Multi-Mode fibre ports to enable daisy-chain connectivity to a Gigabit network.
The Edge modules include an internal power supply and can provide up to 65W of total power to PoE devices. The Edge can be connected to the Battery module for continued operation during power outages. Bolt Access Points can be connected to the PoE ports.
The Edge module supports many advanced network standards including Layer 2+ features to optimise network performance, ease maintenance issues and secure network safety.
Our network extenders overcome the inherent 100m cat6 ethernet cable distance limitation.
These PoE Extenders can be daisy-chained with our Cat6 cables to reliably provide connectivity at up to 500m for PoE devices requiring less than 4W of power, for example our Bolt Access Point. As the distance reduces, higher power is available. The Extenders have been proven to maintain excellent data integrity over these distances.
The Extenders include our IP67 rated Cat6 receptacles to ensure they can be easily connected with our Cat6 cables and maintain the overall IP67 rating for the N-Connex system. Indicators are provided to show the status of the PoE power and Network connectivity. The devices are also well labelled to make installation as simple and straight-forward as possible.
The N-Connex bolt is a high-powered access point that is used to provide wifi connectivity to the network.
The Bolt supports 802.11 b/g and n protocols.
The Bolt is a compact unit that is designed to be easily installed and connected to a range of antennae. In most situations, an omni-directional antennae is directly connected to the Bolt. This will provide strong WiFi signals level up to 200m in all directions from the Bolt. We can also make use of alternate directional Antennae, where required, that can provide signals up to 800m from the Bolt in specific directions.
The Bolt is connected via our Cat6 Ethernet cable to the N-Connex Distribution or Edge modules. By utilising our PoE Network Extenders we can position a Bolt Access Point up to 400m from either the Distribution or Edge modules. This potentially enables one of these modules to effectively cover large areas or up to 1km of underground travel-ways.