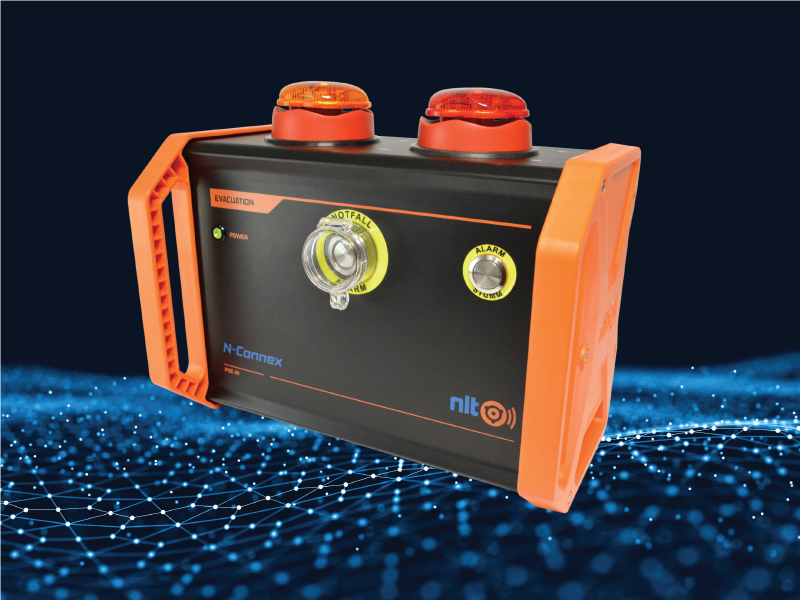 The Evacuation 2.0 provides a managed emergency warning solution for the N-Connex network. The module features two high intensity strobe lights with 110db sirens and an illuminated emergency push button. A momentary mute button is provided to silence the siren, enabling local voice communications in the event of an emergency.
Powered by PoE, the Evacuation 2.0 is connected to the N-Connex network with a single Cat6 cable making installation simple and intuitive. Paired with N-Connex PoE Extenders, the Evacuation 2.0 can be installed up to 300 meters from a Distribution Module.
When placed at key positions the Evacuation 2.0 becomes a vital part of the site safety solution. The Emergency Application in NLT's flagship Digital Mine software is used with a map of the site to visualize the state of each alarm. An alarm can be activated locally with the Emergency push button, remotely from Digital Mine software or externally using the supplied digital inputs.
As with all N-Connex modules the Evacuation 2.0 is rugged and is suitable for harsh environments. The module is designed to be mounted on the NLT quick-fit rail system which can be attached to, or hung from, a variety of surfaces.